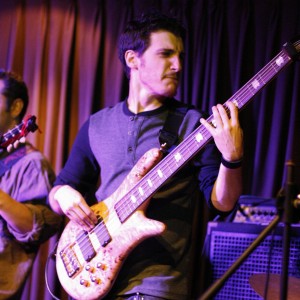 Thursday, October 17th saw the debut of the amazing talent of LuKa Lautaro Bellucca performing his own compositions with his ultra talented band. This was one hell of a night, and we look forward to having LuKa Group back at Sappho very soon!
LuKa Group
This project is a reflection of emotions, stories, images and specific moments expressed through compositions written by Luka. These original songs cannot be defined into one single genre but as a mixture of different styles such as Funk, Rock, Drum & Bass, Tango and Argentinian Folk music expressed through the language of jazz.
A fine combination of local and international top musicians bring their unique vibe to the band and create the unique atmosphere intended for each song.
Oren Dashti – Piano & Keyboard
Fabio Moreira – Guitar
Olivia Berendsohn – Vocals
Shawna Yang – Saxophone & Flute
Tzu-Yu Huang (Fish) – Drums
LuKa Lautaro Bellucca – Bass, Doublebass & Composition
…
…